Guest editors Felix Driver and Caroline Cornish are historical geographers at Royal Holloway, University of London, and honorary research associates at the Royal Botanic Gardens, Kew.
Merely looking at nature, at its fields and forests, causes a pleasure that is essentially different from the impression given by studying the specific structure of an organized being. In the latter, the details interest us and excite our curiosity; in the former, the large picture, the ensemble, excites our imagination.

—Alexander von Humboldt 1807
Humboldt's words, taken from the Essay on the Geography of Plants (published under his own name and that of his travelling partner Aimé Bonpland), invite us to engage with the plant kingdom on two distinct levels, those of analysis and of the imagination. His extended conception of biogeography combined close empirical observation of environments with an appreciation of the affective and aesthetic qualities of plants. It is only when one is sensitive to the beauty of nature, argued Humboldt, that one can best apprehend its influence on human 'taste and imagination', indeed on 'the soul of the observer': in this way, the forms of nature themselves can shape human sensibilities, much as can 'imitative arts and descriptive poetry' (Humboldt and Bonpland 2010: 73). Humboldt's expanded vision of humanity's relations to nature, integrating the sciences and the arts at multiple scales, soon went out of fashion in an age of professional specialisation. In our own time, however, his writings have been revived, republished and newly translated, and hailed as anticipating key aspects of modern ecological thinking. For our purposes what matters even more than the content, manifest or latent, of Humboldt's writings is their form, combining as they do historical narrative, scientific analysis and multiple modes of graphic representation. If Humboldt continues to fascinate intellectual historians today, it is at least in part because of his reputation as both an accomplished scholar (he was dubbed 'a walking library' by one of his contemporaries) and the living embodiment of modern science, committed to instrumental observation, measurement and mapping, the exemplar of 'Humboldtian science'.
Encouraging conversations across disciplinary boundaries sometimes involves looking back, and recontextualising the history of scientific thought and practice so we can understand roads taken and not taken in the intellectual history of our practice as researchers. It may also involve creating new contexts and new frameworks in which these conversations can take place more readily. In that spirit, we offer in this issue of TEA a new set of essays under the title 'Plant Humanities'. The collection brings together researchers from a range of arts and humanities disciplines whose interests lie in various aspects of the study of plants, to explore what's possible when—and where—arts, humanities and plants meet.
A wider context: the environmental humanities
The idea of plant humanities evokes the work of scholars in the field of environmental humanities which spans a number of traditional humanities disciplines, while at the same time working across the disciplinary divide between nature and culture which has long shaped the Western academy (Adamson and Davis 2016). For two decades or more, advocates of environmental humanities have argued that such an approach offers a powerful means of engaging with the ever-intensifying global environmental crisis, ultimately laying the basis for a new environmental ethics (Oelschlaeger 1999; Mauch 2019). The growth of environmental humanities has also coincided with, and benefitted from, an explosion of public interest in creative nature writing, popular science and environmental history, as reflected in a stream of books and films intended for wider-than-academic audiences.1
While environmental humanities reflects new thinking about fundamental concepts within the humanities, especially the conceptual separation of humanity and nature, it has also been inspired by a resurgence of environmental activism which is often traced back to classic works such as Rachel Carson's Silent Spring (1963). In 2009, Munich's Ludwig-Maximilians-Universität and the Deutsches Museum, funded by the German Federal Ministry of Education and Research, created a new centre for environmental humanities - the Rachel Carson Center for Environment and Society (RCC). This globally-orientated institution aims, in its own words, to 'harness the interpretative power of the humanities and social sciences to contextualize technologies, economies, and policies.'
More than a decade on, the environmental humanities have continued to evolve, with a plethora of terms being coined to chart their proliferating territories. Whole new fields of enquiry have emerged—witness the 'geohumanities', 'blue humanities' and 'animal humanities'–while further communities of interest have gathered around particular environments of concern—hence 'mountain humanities', 'forest humanities', 'desert humanities' and even 'ice humanities'. In this context, it is important to hold on to the holistic ethos inherent in the environmental humanities programme lest this proliferation of terms be mistaken for something akin to a disciplinary taxonomy: in this sense, the contributors to this issue of TEA are wholehearted lumpers, not splitters. That said, we are convinced that the term 'plant humanities' denotes something of real significance, offering the possibility of new kinds of research and collaboration across disciplines, most especially in botanic gardens and other sites of botanical collection. In this introduction we would like to explain why. Image courtesy of Matthew Gandy.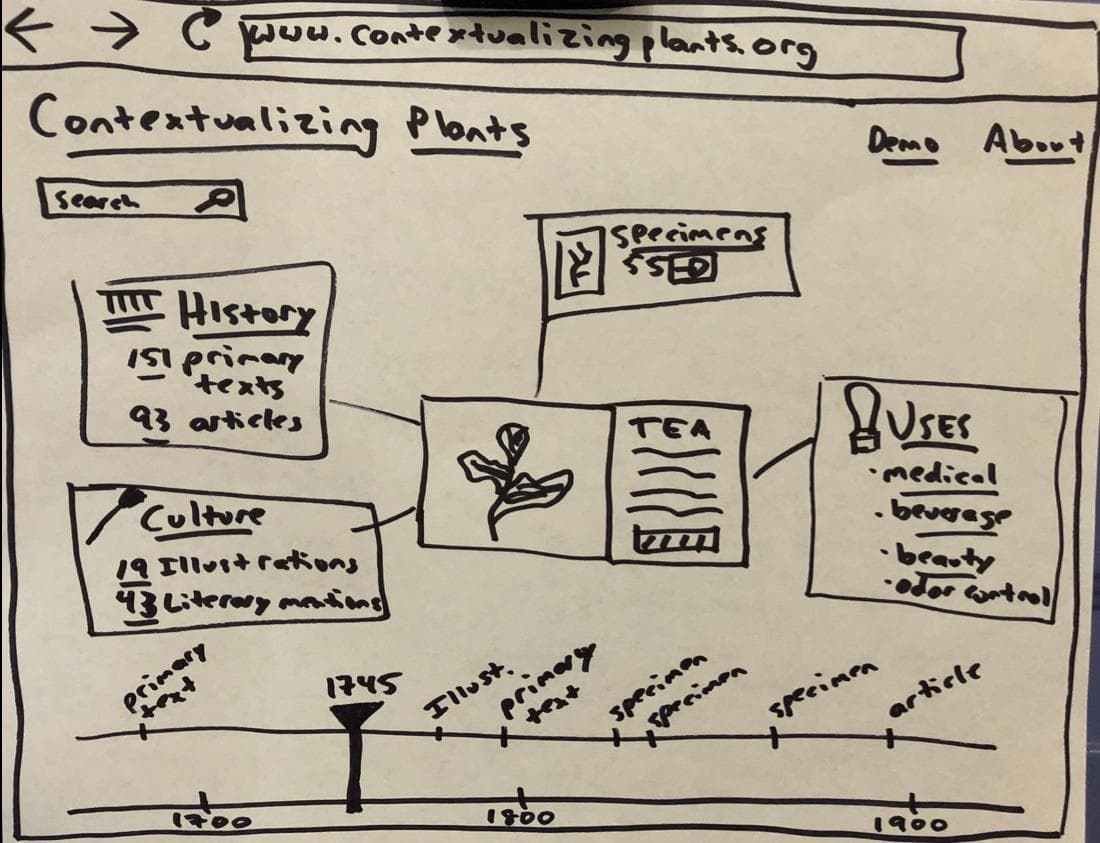 The emergence of plant humanities
The term, 'plant humanities' is relatively novel, though it is not of our own making. It first entered the public domain in September 2018 when Dumbarton Oaks Research Library and Collection—a scholarly research institute affiliated with the Faculty of Arts and Sciences at Harvard University—received funding from the Andrew W. Mellon Foundation to develop, along with JSTOR Labs, the 'Plant Humanities Initiative' (Batsaki and Humphreys 2018). The aim was to create a digital resource linking print and visual material from Dumbarton Oaks' rare book collection to JSTOR's 'Global Plants' platform and other digitised sources 'through interactive and visually engaging storytelling' (fig. 2). With the Plant Humanities Lab now up and running, Dumbarton Oaks aims to facilitate and support ensuing plant-related research initiatives.
The botanic garden as an interdisciplinary research space
The Dumbarton Oaks initiative has drawn attention to the potential of plant humanities to draw disciplinary perspectives together in the study of plants and their significance for people. We believe this approach has much to offer more widely, particularly in contexts where humanities and scientific research find a common home—namely botanic gardens and their associated research facilities and collections. The co-location of humanities research infrastructure, botanical collections, plant science and a wide range of public engagement and learning activities in such sites makes them, we argue, particularly fruitful for experiments in plant humanities.
Such initiatives already exist, notably at the Humanities Institute of the New York Botanical Garden (NYBG), founded in 2014, and also funded by the Andrew W. Mellon Foundation. The NYBG Humanities Institute has a broad disciplinary research agenda, capitalising on the scientific expertise and resources underpinning the botanical and horticultural work of the botanic garden. It has also developed a dynamic and multivocal outreach programme, including online lectures and symposia and the Hand Lens, a digital platform for telling a broad range of plant stories from a variety of perspectives (fig. 4).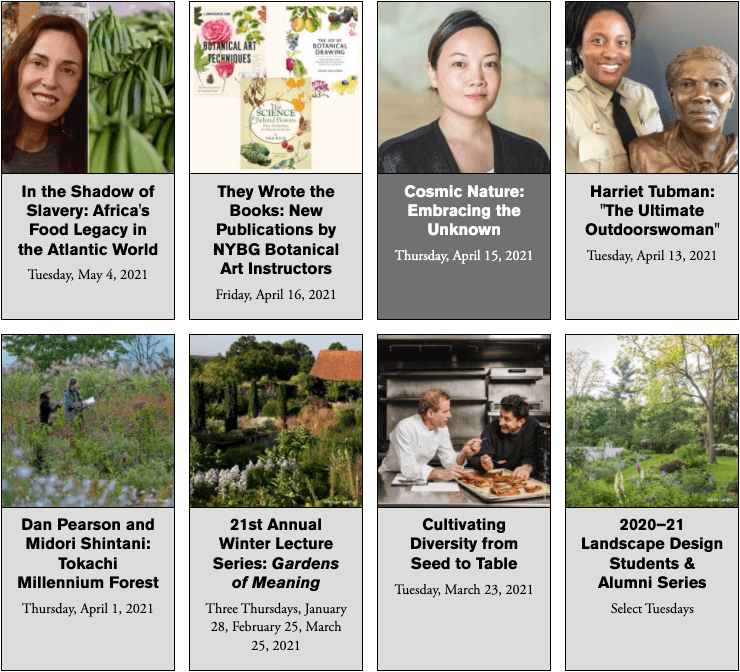 There are other notable examples of botanic gardens in the USA providing a home for humanities research. For example, the Huntington Library, Art Museum, and Botanical Gardens in San Marino, California, combines scholarly humanities research with pedagogic and public engagement programmes. Like the NYBG it hosts visiting researchers, and it has also established collaborative research partnerships with universities.
In this context Oak Spring Garden Foundation in Virginia also merits attention. Funding research into the arts, humanities, and plant sciences, Oak Spring emphasises 'integrative approaches that bring together sciences, humanities and social sciences for their mutual benefit.'
We believe the combination of new approaches to collections-based research with an emphasis on the interrelations of research, learning and public engagement presents exciting possibilities for new work in the plant humanities. In botanic garden settings in many parts of the world, the co-location of these activities presents further possibilities for the development of plant humanities. In the UK, for example, botanic gardens such as those at Kew and Edinburgh combine a world-class library and archive with extensive scientific collections, extensive programmes of learning and public engagement and of course the living collections of the gardens themselves.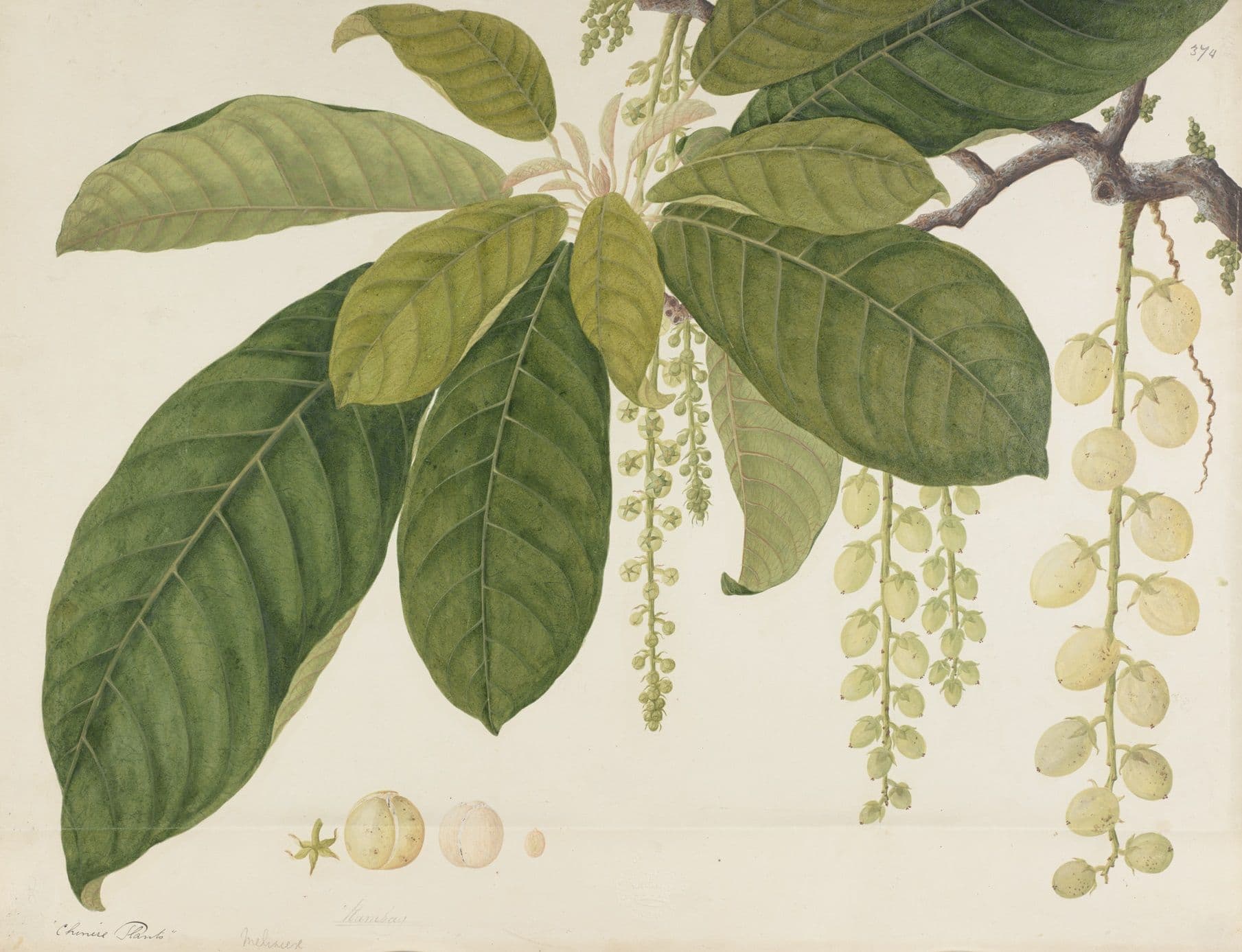 Plant humanities: where next?
In December 2020 our project on plant humanities, undertaken in collaboration with Mark Nesbitt at Kew Gardens, was one of six selected by the UK's Arts and Humanities Research Council in response to their 'Where next?' call for researchers to scope out areas of research innovation where the arts and humanities are playing a leading role. Since then we been busy exploring the potential for plant humanities research especially in the context of interdisciplinary collaborations between academics and botanic gardens. We have undertaken a series of interviews with academics and practitioners from plant sciences, arts and humanities, ranging from archaeobotanists to artists, from horticulturalists to historians, and from phytoscientists to philosophers. In the process we have encountered a wide variety of new initiatives in the study of plants and the uses people make of them, and new approaches to the challenge of working across disciplines and across sectors. We have learned much about the value of interdisciplinary partnerships and settings where such research can take root and flourish, including botanic gardens and museums as well as universities and research institutes. Above all we have been impressed by the extent of creative and emotional investment in the world of plants shared by both botanists and humanities scholars.
In our view, plant humanities is best understood as a meeting place for researchers and practitioners in a broad range of disciplines conventionally located within the arts, humanities and the social sciences. The pairing of the two words which define this meeting place is not of course accidental: it draws attention to what is occluded when plant knowledge is confined to Plant Sciences. In mapping this terrain, we hope to stimulate further contributions to the development of understanding of plants and their significance for human history and human futures.
An exploratory map of plant humanities needs to include the material histories of plants, their uses and collection; the stories and philosophies associated with them; the creative works and designed landscapes that have been inspired by or have manipulated them; and the ways in which plants are valued and mobilised in policy, especially in terms of health and wellbeing. An attempt to map some of its key dimensions is provided in the accompanying diagram (fig. 6). The broad themes signalled in the diagram may include contributions from a large number of disciplines connected wholly or in part with the arts and humanities. These include creative art and design; archaeology and anthropology; history and geography; psychology and philosophy; agriculture, horticulture and sylviculture; music, literature and poetry; and law and accountancy.
The essays
The essays in this issue of TEA explore some of the ways in which plants matter to people, and the potential of humanities-led research methods and creative practice to interpret, amplify and communicate these meanings. Kate Teltscher's essay on 'The Napoleon Willow' offers us a history of the weeping willow which stood guard over Napoleon's tomb on the Island of St. Helena. Drawing on accounts in the contemporary popular press, travel literature and popular science titles, Kate emphasises the cultural significance of Salix babylonica and recovers the story of a particular specimen which she sees as a symbol, both of the fallen Emperor Bonaparte and of his subsequent 'resurrection' in 2021, the 'Année Napoléon'. The cultural significance of plants is a theme reprised by Yota Batsaki in her essay on the memorialising art of Lungiswa Gqunto. In an account of a recent art installation concerned with themes of migration and xenophobia, it is the sage plant (Salvia officinalis) which mediates the transition between past and present, and between Africa and Europe. From fine art we move to poetry with Redell Olsen's tribute to the Amazon moonflower (Selenicereus wittii) which bloomed in 2021 at the Cambridge Botanic Garden. Juxtaposing her own responses to the transience of the flower and the precarity of its existence with those of botanical artist Margaret Mee (1909-88), Redell transports us back and forth between the humid heat of the Amazon rainforest, the carefully monitored environment of the glasshouse, and the global warming beyond it which threatens our world's very existence.
For centuries before Margaret Mee arrived in the region, the Amazon exerted a powerful attraction on Europeans. It is through the writings and collections—of plant specimens and plant-based artefacts—of botanist Richard Spruce (1817-93), that Luciana Martins and Lindsay Sekulowicz have reconnected with Amazonia. 'The Herbarium as Workshop' springs from their engagements, as cultural historian and artist respectively, with Spruce's material legacy and its relevance for Indigenous peoples in the twenty-first century. In comparison with the cultural productions of the Amazon, the material culture of the Caribbean has received relatively little scholarly attention (Barringer and Modest 2018: 21-5). In his essay on Jamaican lace-bark (Lagetta lagetto), Steeve Buckridge begins to redress this imbalance, presenting the processing of Lagetta bark and its use in clothing manufacture as acts which formed part of a broader move to construct a Jamaican identity in the post-emancipation era.
Philosophy has played a fundamental role in the new thinking about plants which underpins plant humanities. In 'Finding the plantness within ourselves', philosophers Danielle Sands and Daniel Whistler explore recent shifts in plant thinking from extrinsic to intrinsic approaches. This essay anticipates future issues of TEA edited by Monica Gagliano. Our own issue concludes with Mark Nesbitt's essay on modes of working across disciplinary boundaries in the context of his role as curator of the Economic Botany Collection at Kew Gardens. Drawing on Julie Thompson Klein's 'taxonomy of interdisciplinarity' (Klein 2010), Mark reviews humanities-led research conducted on the collection through the lens of multidisciplinarity, interdisciplinarity and transdisciplinarity. The first two of these can be readily mapped onto past and present research at Kew. In a spirit of optimism which, we feel, characterises plant humanities more broadly, Mark also looks forward to the challenges of transdisciplinary collaboration with the ultimate goal of achieving overarching disciplinary synthesis.
This issue of TEA embraces plant humanities in all its breadth and potential. It is a visual demonstration of the endlessly inspiring things that can happen when arts, humanities and plants meet. Enjoy!
NB This research underpinning this article was supported by an AHRC research grant under the scheme Where Next: Scoping Future Arts and Humanities Led Research.
References
Adamson, Joni and Michael Davis (2016) Humanities for the Environment: Integrating Knowledge, Forging New Constellations of Practice. London: Taylor and Francis.
Batsaki, Yota and Alex Humphreys (2018) How have Plants Shaped Human Societies? Scientific American, 13 November 2018.
Carson, Rachel (1963) Silent Spring. London: H. Hamilton.
Gagliano, Monica, John C Ryan, and Patricia Vieira (eds.) (2017) The Language of Plants: Science, Philosophy, Literature. Minneapolis, MN: University of Minnesota Press.
Gandy, Matthew and Sandra Jasper (eds.) (2020) The Botanical City. Berlin: Jovis.
Gange, David (2019) The Frayed Atlantic Edge: An Historian's Journey from Shetland to the Channel. London: Collins.
Humboldt, Alexander von and Aimé Bonpland (2010) Essay on the Geography of Plants. Stephen T. Jackson (ed.) Chicago, IL: University of Chicago Press.
Kimmerer, Robin Wall (2013) Braiding Sweetgrass: Indigenous Wisdom, Scientific Knowledge, and the Teachings of Plants. Minneapolis, MN: Milkweed Editions.
Klein, J.T. (2010) A Taxonomy of Interdisciplinarity. In The Oxford Handbook of Interdisciplinarity, edited by R. Frodeman, J. Thompson Klein, and C. Mitcham. Oxford: Oxford University Press, pp. 15–30.
Macfarlane, Robert (2015) Landmarks. London: Hamish Hamilton.
Mauch, Christof (2019) Slow Hope: Re-Thinking Ecologies of Crisis and Fear. Munich: Rachel Carson Centre.
Oelschlaeger, Max (1999) Re-placing History, Naturalizing Culture. In Human/Nature: Biology, Culture, and Environmental History, edited by J.P. Herron and A.G. Kirk. Albuquerque, NM: University of New Mexico Press, pp. 63–78.
Posnett, Edward (2019) Harvest: The Hidden Histories of Seven Natural Objects. London: Bodley Head.
Sheldrake, Merlin (2020) Entangled Life: How Fungi Make Our Worlds, Change Our Minds, and Shape Our Futures. London: Random House.
Footnotes
The combination of environmental concern, humanities research and storytelling is evident in books by humanities researchers intended for a wider-than-academic audience (e.g. Kimmerer 2013, Macfarlane 2015; Gange 2019; Posnett 2019; Sheldrake 2020). It is of course also expressed in other media: for an example, see Matthew Gandy's film Natura Urbana: The Brachen of Berlin (Berlin 2017) (fig. 1). ↩